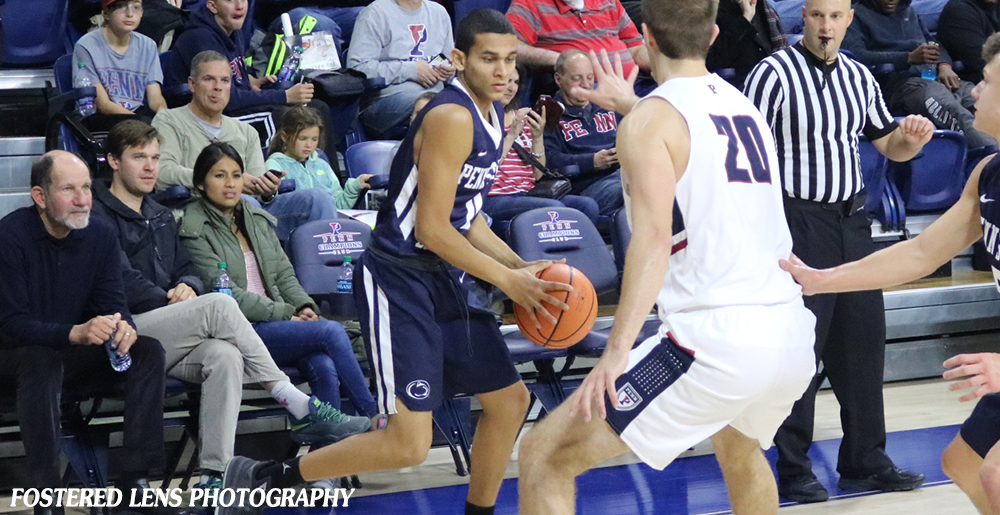 Brandywine Drops Non-Conference Battle At Eastern
ST. DAVID'S, Pa. – Penn State Brandywine was within two points at the half, but Eastern University pulled away late in the game to secure a 92-76 victory over the Lions Wednesday night.
Eastern owned a 10-point lead through 13 minutes of play, but Brandywine battled back. Ketquan Gatewood (Detroit, Mich./Detroit Collegiate Prep) started a 10-2 run with a basket at the 6:42 mark before Andrew Persaud (King of Prussia, Pa./Upper Merion) caught fire, knocking down two three-pointers, a pair of free throws and a game-tying layup.
The Eagles countered with the game's next eight points; however, the Lions closed the half with eight of the final 10 points, the last two of which came on Persaud free throws that brought the count to 39-37 at the break.
Bryce Barrouk's (Glen Mills, Pa./Rustin) triple to open the second period gave Brandywine its first lead since the game's first two minutes, but Eastern answered with back-to-back three-pointers and two minutes later, began a 13-2 run that upped its edge to 13 points.
Barrouk converted a three-point play with 11:52 to go to get the Lions within seven, while Persaud's triple three possessions later made the deficit just six, but Eastern outscored Brandywine 21-6 during the following five minutes to run away.
Gatewood paced five Lions in double figures with 20 points and matched Barrouk for the team lead with seven rebounds. Persaud collected 18 points, while Barrouk netted 13, Pat Gallagher (Broomall, Pa./Marple Newtown) tallied 14 and Johnta Dunson (Philadelphia, Pa./Freire Charter) produced 10.
Eastern, which also put five players in double figures, tallied assists on 28 of its 35 field goals and held a 47-28 edge on the boards.
Brandywine (3-4, 1-2 PSUAC) opens a weekend home stand Friday night against Penn State DuBois at 8:00 pm.