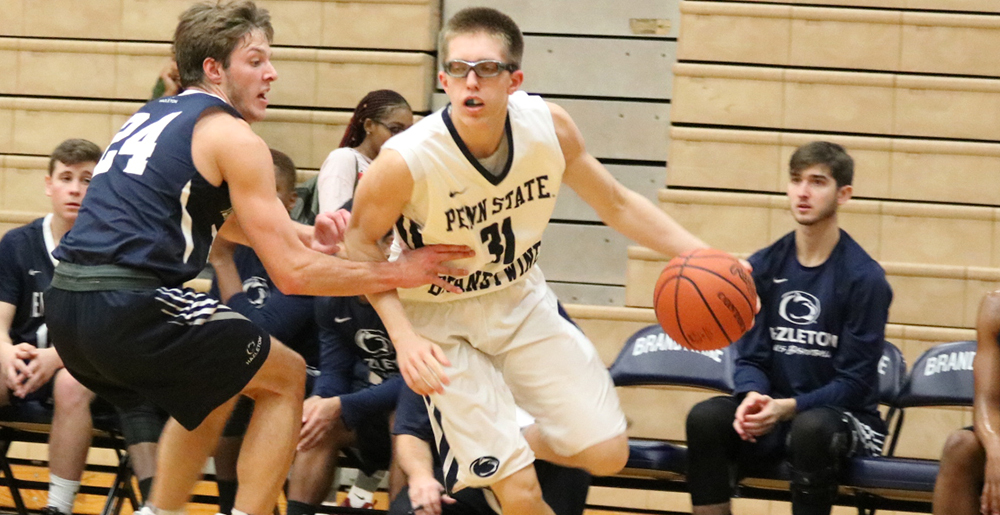 Hot-Shooting Central Penn Tops Brandywine
MEDIA, Pa. -- Central Penn College made more than 56 percent of its shots from the field to claim a 98-85 victory over the Penn State Brandywine men's basketball team on Saturday afternoon.

The Knights shot 64 percent during the first half, making 21-of-33 field goal attempts, to build a 54-35 lead at the break.

Central Penn ran out to a 10-2 edge and pushed the lead to 17 points at the 6:35 mark. Bryce Barrouk (Glen Mills, Pa./Rustin) knocked down two free throws and a three-pointer to get the Lions within 12, but the Knights poured in 15 points during the final four minutes of the half to lead by 19 at intermission.

Marquel Wansley misfired on the Knights' first shot of the second half, but the Knights would get hot again, burying five-straight field goals, including four three-pointers, as their lead ballooned to 68-41 just over four minutes in.

Brandywine steadily chipped away at the deficit, getting the margin within 89-72 when Barrouk sank a pair of free throws with 6:32 to go. Three minutes later, the Lions netted eight-straight points, beginning with back-to-back three-pointers from Ahmen Cleveland (Philadelphia, Pa./Freire Charter) and Jordan Graves (Media, Pa./Strath Haven) to close within 12, but would get no closer during the final minutes.

Barrouk topped all scorers with 20 points after knocking down all six of his free throw attempts and a pair of triples. Quentin Beasley (Philadelphia, Pa./Bishop McDevitt) tacked on 17 points and four rebounds, while Johnta Dunson (Philadelphia, Pa./Freire Charter) was 4-for-4 from the field, chipping in 12 points.

Brandywine shot 43 percent from the field, but the Knights connected on 38-of-67 field goal attempts and 14-of-18 free throws to overcome 30 turnovers forced by the Lions.

Brandywine begins a three-game road trip Tuesday at Penn State York (8:00 pm).