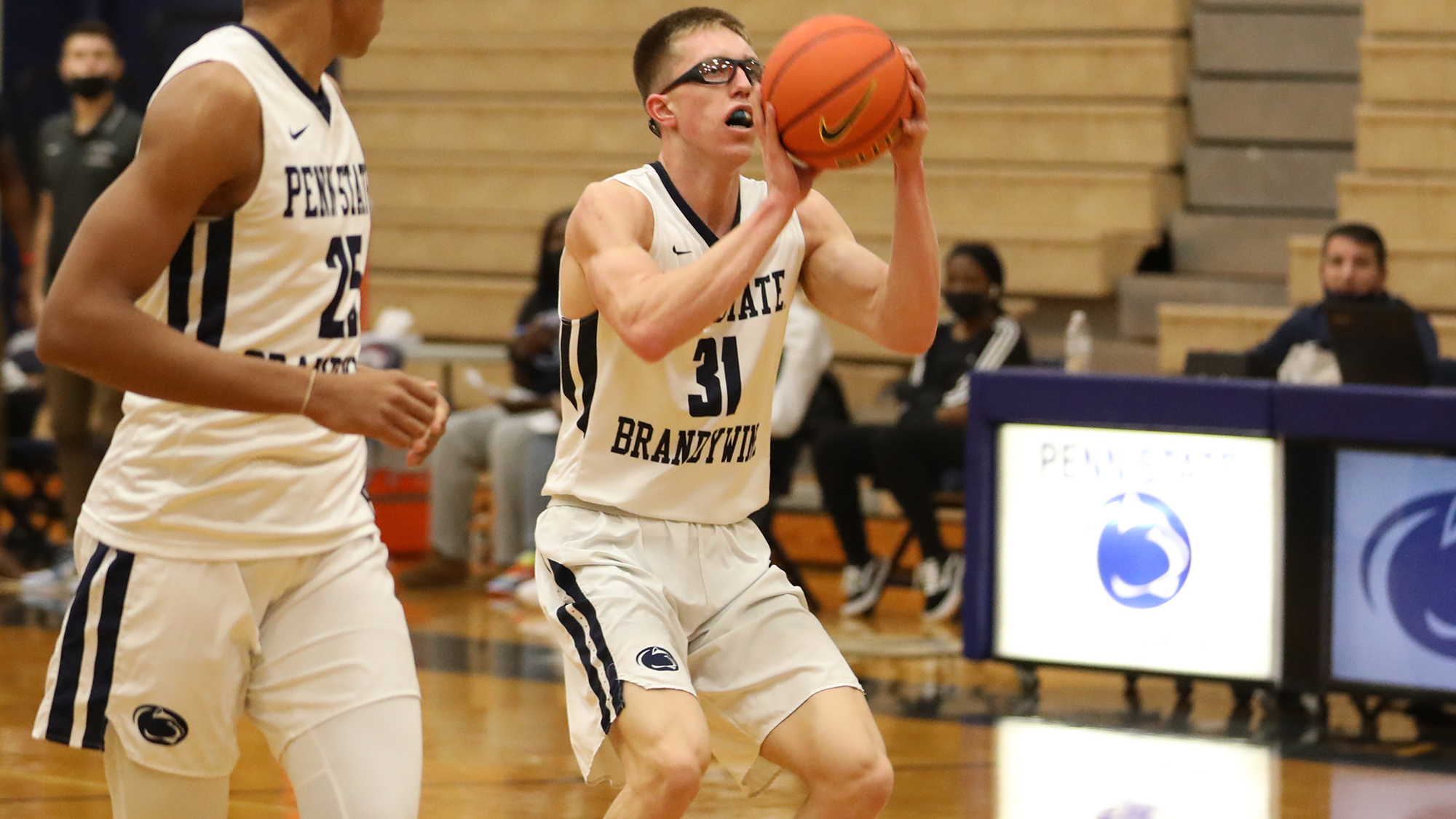 Brandywine Tops Wilkes-Barre; Reaches PSUAC Semifinals
WILKES-BARRE, Pa. – Third-seeded Penn State Brandywine upended second-seeded Penn State Wilkes-Barre and advanced to the Penn State University Athletic Conference Men's Basketball Tournament semifinals following a 67-60 victory on Monday night.
The game's first 15 minutes featured five ties and seven lead changes, but Brandywine took control late in the period. Jordan Graves (Media, Pa./Strath Haven) and Bryce Barrouk (Glen Mills, Pa./Rustin) both sank a pair of free throws to give the Lions a four-point edge. Barrouk added a basket, while Dillon Jones (Wilmington, Del./Hodgson Vo-Tech) canned two free throws as the Brandywine lead moved to seven points at the break following a 14-6 Brandywine spurt to end the half.
Wilkes-Barre was within two at the midway point of the second half, but Jaden Kelly (Philadelphia, Pa./GAMP) and Jones knocked down back-to-back triples to swell the margin to eight points.
Kevin Major netted the game's next five points to once again get Wilkes-Barre within striking distance; however, Colin Hockenbrock (Wilmington, Del./St. Elizabeth) sank a layup and Vince Zulli (Schwenksville, Pa./Perkiomen Valley) buried a three-pointer to keep Brandywine in front.
After a Wilkes-Barre basket made the count 56-50 with 3:35 to play, Barrouk drained the biggest shot of the night, connecting for his second triple as the Lions' lead moved to nine points.
Brandywine used the free throw line to secure the victory during the final three minutes as Graves made all four of his attempts, Barrouk knocked down two and Hockenbrock sank one.
Brandywine overcame 35 percent shooting by making 20-of-23 free throws and committing just 10 turnovers.
Barrouk paced the Lions with 22 points and 10 rebounds, while Graves netted 12 points and Hockenbrock produced 11 points and nine boards. Jones knocked down a pair of triples, tallying eight points and three rebounds.
Brandywine (15-17) will visit Penn State Mont Alto, the top seed from the PSUAC West Division, on Wednesday with a berth in Saturday's conference championship game on the line.