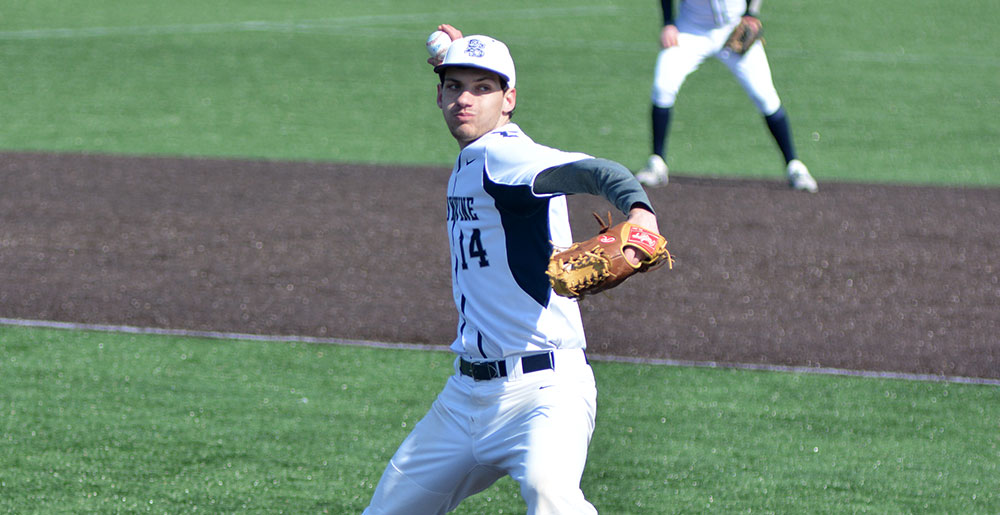 Brandywine Opens Season With Wins Over SUNY Cobleskill
ASTON, Pa. -- Penn State Brandywine opened the season with a victory for the first time since 2011 on Saturday as the Lions swept a non-conference baseball doubleheader from SUNY Cobleskill at Maple Zone. Brandywine won a pair of two-run games, taking the opener 4-2 before claiming the nightcap 5-3.
On the mound, starting pitchers Bradley Ulmer (Newark, Del./St. George's Tech) and Matt Staiber (Drexel Hill, Pa./Monsignor Bonner) both went the distance for Brandywine, allowing just 10 total hits to Fighting Tigers' hitters. Ulmer, the game one starter, surrendered three hits and two runs (one earned) and fanned three, while Staiber collected his first collegiate victory after striking out a pair and giving up three runs (two earned) on seven hits in 7.0 innings of work.
Brandywine won both games despite collecting a combined eight hits during the contests as Lion hitters produced 11 bases on balls and took advantage of numerous Cobleskill miscues in the field.
Brandywine struck first in game one as Robert Spitaletta (Glen Ridge, N.J./Glen Ridge) reached on an error and came around to score on a wild pitch during the bottom of the first inning. Matt Masi (West Chester, Pa./Cardinal O'Hara) drove in Joey Buoni (Chester Springs, Pa./Salesianum) with a triple in the third before the Lions scored their final two runs two innings later. Brian Reynolds (Newtown Square, Pa./Marple Newtown) and Brett Sheeran (Springfield, Pa./Springfield) both worked bases-loaded walks during the fifth inning.
Spitaletta got the scoring started in the first inning of game two as well, singling to open the frame before crossing home via a Masi sacrifice fly.
The Lions added two more runs in the third frame as Spitaletta and Chris Skahill (Media, Pa./Penncrest) both scored following SUNY Cobleskill wild pitches, upping the lead to 3-0.
The Fighting Tigers put a run on the board in the fourth inning, but one frame later, T.J. Wiest (Aston, Pa./Sun Valley) delivered a two-run double to left-center field, extending the lead to 5-1.
Spitaletta, Masi and Tommy Crumlish (Upper Darby, Pa./Monsignor Bonner) all collected two hits during the doubleheader. Spitaletta scored four runs and stole a base, while Masi and Buoni both crossed home twice.
Brandywine is back at Maple Zone again on Sunday for a noon doubleheader against Hood College (Md.).